Safe Sleep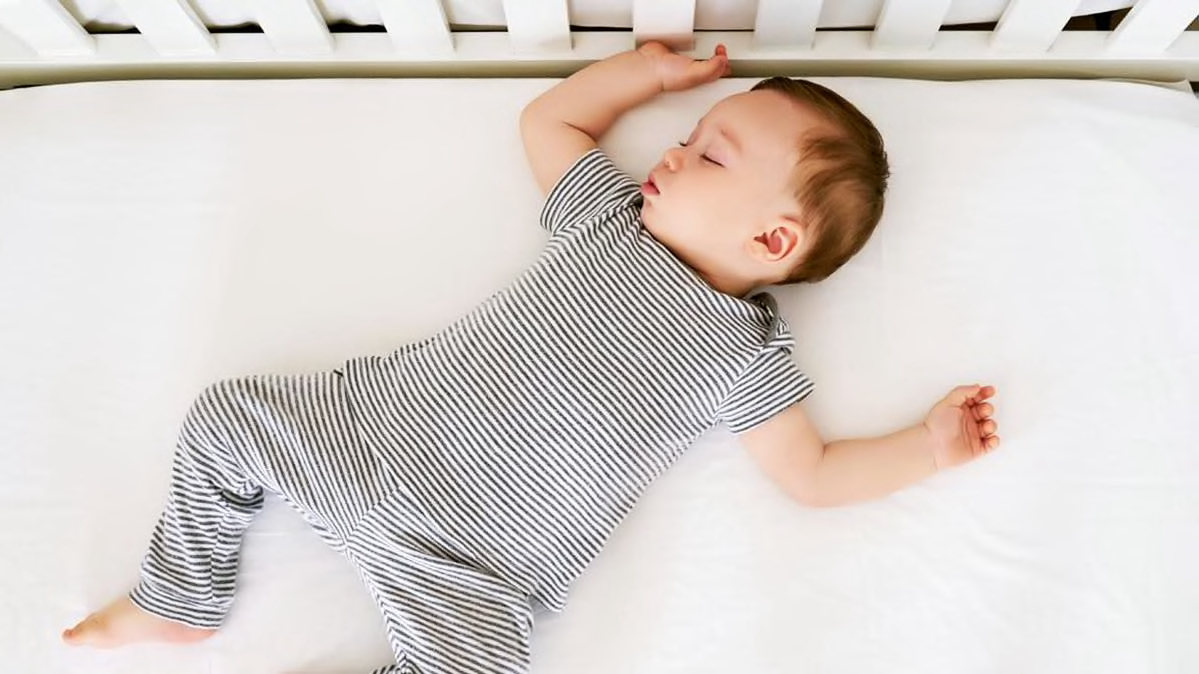 What is safe sleep?
Safe sleep means putting your baby to sleep in ways that can help protect him from dangers, like choking and suffocation (not being able to breathe), and sudden infant death syndrome (also called SIDS). SIDS is the unexplained death of a baby younger than 1 year old. SIDS usually happens when a baby is sleeping. It's sometimes called crib death because the baby often dies in his crib.
How much sleep does your baby need?
Newborns sleep about 16 hours a day, usually in 3- to 4-hour periods. Your baby needs to eat every few hours, which is why she doesn't sleep for longer periods of time. Your baby may get cranky or overtired if she doesn't get enough sleep.
Don't be surprised if your baby can only stay awake for an hour or two. Over time, her body gets into a sleep pattern. She starts sleeping for longer stretches, even during the night. If you're worried about your baby's sleep, talk to her health care provider.
Where should your baby sleep?
The safest place for your baby to sleep is by herself in a bassinet or crib. If you have multiples (twins, triplets or more), put each baby in his own bassinet or crib. Here are some do's and don'ts about making your baby's sleep space safe:
Do's
Do put your baby to sleep on his back on a flat, firm surface, like a crib mattress covered with a tightly fitted sheet. Use only the mattress made for your baby's crib. The mattress should fit snugly in the crib so there are no spaces between the mattress and the crib frame. The mattress shape should stay firm even when covered with a tightly fitted sheet or mattress cover.
Do put your baby to bed in his own crib or bassinet. Don't bed-share. This is when babies and parents sleep together in the same bed. Bed-sharing is the most common cause of death in babies younger than 3 months old. Keep your baby's crib close to your bed so your baby's nearby during the night. The American Academy of Pediatrics (also called AAP) recommends that you and your baby sleep in the same room, but not in the same bed, for the first year of your baby's life but at least for the first 6 months
Do make sure your baby's bassinet, crib or play yard meets current safety standards. Visit the U.S. Consumer Product Safety Commission (CPSC) to learn more about product safety standards or product recalls.
Do remove hanging window cords or electrical wires near where your baby sleeps. Babies can get tangled in them and choke.
Do keep the room at a comfortable temperature. If your baby is sweating or his chest feels hot, he may be overheated.
Don'ts
Don't use sleep positioners. These sometimes are called nests or anti-roll pillows. They often are mats or wedges with pillows on either side to help keep your baby in place. The Food and Drug Administration (also called FDA) warns that sleep positioners can cause babies to die because of suffocation.
Don't let your baby sleep in a carrier, sling, car seat or stroller. Babies who sleep in these items can suffocate. If your baby falls asleep in one, take her out and put her in her crib as soon as you can.
Don't put your baby to sleep on soft surfaces, like a waterbed, sofa, soft mattress or cushion.
Don't keep crib bumpers, loose bedding, toys or other soft objects in your baby's crib. They put your baby in danger of being trapped, strangled or suffocated.
Don't use cribs with drop-side rails. Don't put portable bed rails on a regular bed. Babies can get stuck in rails and choke. Don't try to fix a crib that has broken or missing parts.
For more information visit the safe sleep section of the March of Dimes website.